PRIVACY POLICY
Last update: August 7, 2023
VETTA TECHNOLOGY INC., registered under CNPJ/MF number 19,478,102/0001-45, headquartered in Belo Horizonte, State of Minas Gerais, at Rua Sergipe, No. 1440, Suite 1300, ZIP Code: 30.130-174, (VETTA) is committed to your privacy when providing our solutions and services.
We want you to understand which of your Personal Data we collect, the reasons for collecting and using them, and with whom we share them. We will also explain your rights regarding your Personal Data collected and processed by us, and how we will protect your privacy.
By browsing our websites and interacting with us in any way, you agree to the processing of your Personal Data as described in this Privacy Policy. Therefore, we recommend that before continuing to browse our sites and using any service or functionality, you READ CAREFULLY and IN FULL the CONDITIONS STATED HERE.
In case of any questions, suggestions, or if you want to exercise any of your rights as a Data Subject, please contact us . We will make every possible effort to address any questions you may have about how we process your Personal Data.
You acknowledge and understand that this Policy may be modified at any time, provided there is no legal prohibition in this regard, and it is your sole and exclusive responsibility to periodically verify it. In case of significant changes, you will be notified through our website or registered email.
This Privacy Policy does not apply to websites, services, and solutions offered by other companies, even if they are our partners. You should refer to the privacy policies of these other companies to understand how they treat your Personal Data.
DEFINITIONS
• Data Controllers: Controller and Processor;
• Anonymization: Use of reasonable and available technical means at the time of Processing, through which data loses the possibility of association, directly or indirectly, with an individual;
• Controller: Natural or legal person, public or private, to whom the decisions regarding the Processing of Personal Data belong;
• Personal Data: Any information related to a natural person, directly or indirectly, identified or identifiable. Examples of Personal Data include name, CPF, address, email, financial data, geolocation, among others. This concept also includes Sensitive Personal Data, as defined below;
• Sensitive Personal Data: Special category of Personal Data regarding racial or ethnic origin, religious beliefs, political opinions, union membership, or membership in religious, philosophical, or political organizations, health or sexual life data, genetic or biometric data, when linked to a natural person;
• Processor: Natural or legal person, public or private, who performs the Processing of Personal Data on behalf of the Controller;
• Data Subject: The natural person to whom Personal Data refers;
• Processing: Any operation performed with Personal Data, such as collection, production, reception, classification, use, access, reproduction, transmission, distribution, processing, archiving, storage, elimination, evaluation, or control of information, modification, communication, transfer, dissemination, or extraction;
• Users: Individuals over 18 years old who browse our websites/blogs for any reason and/or interact with us via email, WhatsApp, phone, social media, or any other channel, interested in our solutions/services or interested in becoming one of our collaborators.
WHO IS RESPONSIBLE FOR THE PROCESSING OF MY PERSONAL DATA?
VETTA is the Controller of your Personal Data collected as a user.
WHAT DATA IS COLLECTED AND WHAT IS THE SOURCE OF THIS COLLECTION?
All data that you actively provide to us or that we collect are considered confidential. We commit to adopting all technical and administrative measures capable of protecting your Personal Data, observing, for example, the security standards established by current legislation. When you access our website and/or our blog, contract our solutions and/or services, interact with us (to request more information about our solutions and/or services or to work with us, for example), different information is collected, falling primarily into two categories:
User-provided data. These are the information directly provided by you to better understand our solutions and services, ask questions, receive newsletters, be our collaborator, among other forms of interaction. See the table below for the Personal Data you provide to us that we collect and use.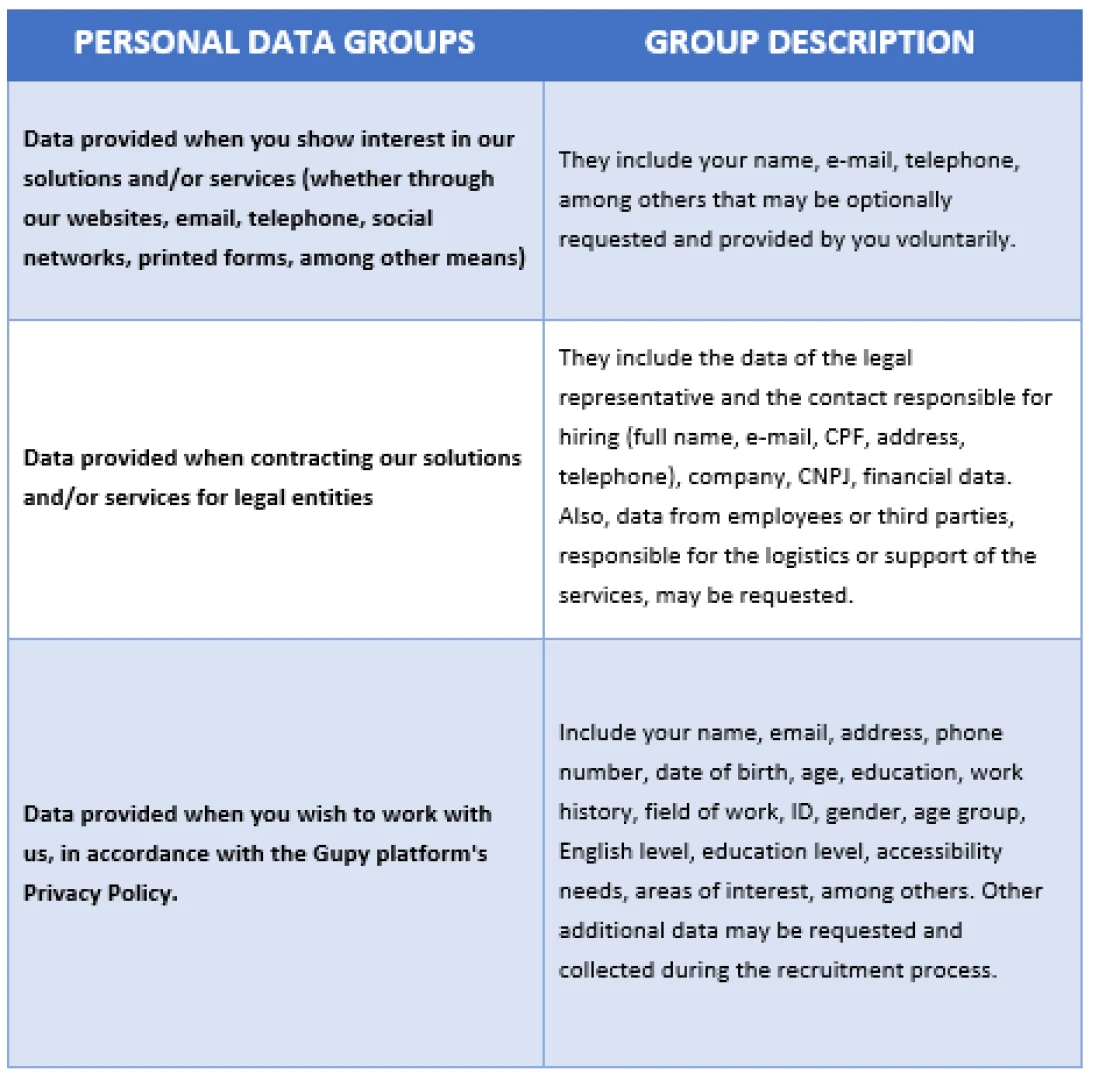 Please check the Privacy Policy of the Gupy platform
You will be solely and exclusively responsible for the accuracy of the Personal Data provided to VETTA, as well as for any damages resulting from the inaccuracy and/or outdatedness of said information.
Automatically collected data. This is the information collected when you browse our sites, such as: the internet protocol (IP) address used to connect your device to the internet, login to access our blog (email address and password), IP origin, click information (without user identification), connectivity data, and any errors or failure events; your interactions with our emails and social media, WhatsApp messages, and messages sent through our contact us; data collected through the use of cookies (please check our Cookie Policy).
SENSITIVE PERSONAL DATA
We do not process Sensitive Personal Data, and in the remote and specific scenarios where we do, the Processing will be based on specific terms provided to you in advance, with your specific consent or based on express legal authorization.
CHILDREN AND/OR ADOLESCENTS DATA
We recognize the particular importance of protecting the privacy of children and/or adolescents. We do not intend to collect, sell, or solicit personal information from anyone under 18 years of age. Our solutions and services are not targeted at children and/or adolescents.
PROCESSING PURPOSES
We process the Personal Data collected in strict compliance with the terms of the General Data Protection Law (Law No. 13,709/18) and for legitimate and specific purposes, including:
• Provide, administer, improve, and develop our solutions and services;
• Respond to your requests, questions, and feedback through our dedicated channels;
• Analyze data to enhance usability, experience, and interactivity when using our websites;
• Make offers and/or provide more accurate recommendations to your needs or interests, including through marketing campaigns and emails;
• Conduct various research and statistical surveys for analysis of indicators, business strategy, and improvement of our solutions and services;
• Enable your participation in our recruitment processes (Careers) - ( Please check the Privacy Policy of the Gupy platform );
• Detect, prevent, and respond to fraud, abuse, security risks, and technical issues that may harm us, our clients, partners, or other third parties;
• Exercise the right to defense in judicial, administrative, or arbitral proceedings;
• Comply with decisions of authorities, administrative, or judicial entities.
These Processing purposes are primarily based on: (i) our legitimate interests in supporting and promoting our activities related to how you interact with us (via the website, blog, email, phone, in our physical locations, etc.); (ii) our contractual relationship; and/or (iii) your consent, when required.
See the table below for some examples to facilitate your understanding:
We may also ask for your consent to process Personal Data for a specific purpose, which we will communicate to you. When you agree to the Processing of your Personal Data for a specific purpose, you can revoke your consent at any time.
If you want to know more details about how your Personal Data will be processed by VETTA based on the purposes described in this section, please contact us .
DATA TRANSFER/SHARING
Any sharing of information is strictly done to the extent necessary and following strict standards of security and confidentiality, in compliance with privacy laws and regulations, always respecting and ensuring that third parties respect the confidentiality of your information and this Privacy Policy.
To enable the provision of our services and to fulfill the purposes described in this Policy, we may share your information in the following cases:
• Third-party service providers serving business purposes. These include, for example, consultancies to enhance our marketing, research companies to conduct our research and studies, cutting-edge technology providers (such as Microsoft, IBM, SAP), intelligence and support to maintain our IT infrastructure, and others. We allow these companies to use your Personal Data solely and necessarily to support us and provide their services/products. We do not allow these third-party service providers to disclose or use your information for any other purposes. We handle your information by third parties with the same care and strictness as required of us, and we require the same from them;
• Advertisers serving our marketing purposes: We may provide your information to our advertising partners and social networks (such as Facebook and LinkedIn) when they request information to select and deliver relevant ads about our solutions/services to you and others;
• Other companies within the VETTA group to operate, execute, enhance, understand, personalize, support, advertise our solutions/services, develop strategies, exercise rights, and prevent fraud;
• Authorities, government entities, or other third parties, for the protection of our interests in any kind of conflict, including legal actions and administrative proceedings;
• In the case of transactions and corporate changes involving us, in which case the transfer of information will be necessary to continue providing our solutions/services;
• Pursuant to a court order or at the request of administrative authorities with legal authority to make such requests;
In other cases not provided above, when there is an intention to share Personal Data and information, if necessary, we will send you a notification with information about such sharing to request your consent for a specific purpose.
It is possible that some transfers will occur abroad, notably to companies that provide cloud data storage services, on servers located outside Brazil. In this case, we commit to doing so in compliance with all relevant legal requirements and best practices for security and privacy.
SECURITY OF YOUR DATA
As soon as we collect your information, we will use strict procedures and the best security and technology resources to try to protect your Personal Data against loss, theft, unauthorized access, use, and unauthorized changes, such as data encryption, physical and logical control for data access, backups, protection systems such as antivirus, firewalls, vulnerability management, among other mechanisms. However, despite our continuous efforts, you should be aware that it is impossible to guarantee 100% protection. The decision to use our solutions/services under these conditions is a personal one.
HOW LONG ARE MY PERSONAL DATA KEPT?
Your Personal Data will be kept by us, according to current legislation, for the period necessary to fulfill the purposes for which they were collected, as described in this Policy, or to comply with applicable legal requirements.
Once the purpose for which the Personal Data was collected is achieved or in the event that the Personal Data are no longer necessary to achieve that purpose, they will be deleted within the scope and technical limits of the activities, authorized for retention in situations provided by current legislation. Your Personal Data will also be deleted upon the decision of a competent authority.
We reserve the right to anonymize the collected Personal Data and use such data for analytical purposes. We will use data outside the scope of this Privacy Policy only after proper anonymization.
You can obtain more details about the retention of your Personal Data, including to request their deletion at any time, by contacting us .
WHAT ARE MY RIGHTS AS A DATA SUBJECT?
You may contact us at any time to:
• Confirm the existence of Processing of your Personal Data;
• Obtain information about how to access your Personal Data;
• Correct incomplete, inaccurate, or outdated data;
• Obtain information about Anonymization, blocking, or elimination of unnecessary, excessive, or improperly treated data in accordance with the LGPD;
• Obtain information about the portability of your Personal Data to another service provider, upon specific request;
• Request the deletion of data processed with your consent, except in cases of legal retention and other cases established by Law;
• Obtain information about public or private entities with whom we share your data;
• Obtain information about the possibility of not providing your consent and to be informed about the consequences in case of refusal;
• Revoke your consent to the Processing of your Personal Data, except as provided by current legislation;
• Other rights of the Personal Data subject, according to current legislation.
To exercise any of the above rights and determine your preferences regarding the Processing and use of your Personal Data, you can contact us.
For security reasons, we will only be able to fulfill your request if we are certain of your identity. Therefore, we may request additional data or information to confirm the identity and authenticity of the requester.
If the Data Subject, even after requesting information about the Processing of their Personal Data from us, still believes that their request was not properly processed, they may petition the National Data Protection Authority (ANPD).
COOKIES POLICY
Cookies are mechanisms by which websites store information in your browser while you use the internet, helping to personalize your access.
To improve your experience, offer and enhance our services with greater security during navigation, usability, and interactivity, our websites use the following cookies:
Necessary Cookies These cookies are essential for our websites to function and cannot be switched off in our systems. They are usually only set in response to actions made by you, such as setting your privacy preferences, logging in, or filling in forms. You can set your browser to block or alert you about these cookies, but some parts of our websites may not work properly. Analytical Cookies Provide information about how our websites are used so that we can improve the User experience. Captured data is aggregated and anonymized. Marketing Cookies Provide information about the User´s domicile having jurisdiction to resolve any doubts arising from this document.